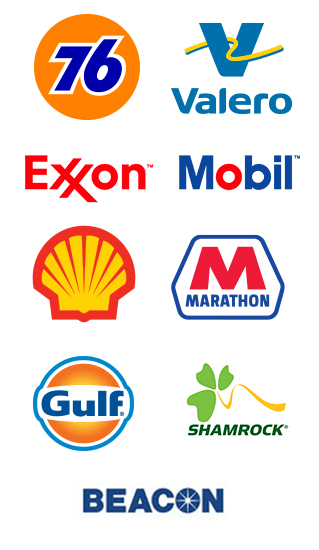 California Fuel Supply (CAFS) supplies branded and unbranded gasoline and diesel to retail fueling facilities in California, Arizona and Nevada. Brands represented are 76, Shell, Valero, Beacon, Shamrock and Spirit.
CAFS supplies Valero fuels in California, Arizona and Nevada.  Valero's family of brands include Valero, Beacon and Shamrock.  Valero is the largest independent refiner in North America and has been the fastest growing brand in the United States over the past decade.  More than 7,400 outlets carry the Valero, Diamond Shamrock, Shamrock and Beacon brands in the United States and the Caribbean; Ultramar in Canada; and Texaco in the United Kingdom and Ireland. Valero is a Fortune 500 company based in San Antonio.
CAFS supplies 76 branded fuels throughout California.  The 76 brand, represented by the distinctive 76 sphere, has been one of a handful of the most visible brands in California for well over 100 years.  The 76 brand has traditionally been synonymous with quality and performance.
CAFS Supplies Shell fuels in Northern California and Arizona.  Shell, Founded in 1897, is the world's largest single brand retailer, with over 40,000 service stations across more than 140 countries. An average of 300 cars visit a Shell service station every second of the day, 365 days a year.
CAFS supplies Spirit fuels in California, Arizona and Nevada.  Spirit is a national petroleum brand created for the sole purpose of serving the needs of independent petroleum marketers. The Spirit brand's appealing patriotic image inspires customer confidence and loyalty from coast to coast.